How did the EMVA come to be founded in 2003?
Dr. Chris Yates: The foundation of the EMVA in 2003 has been the result of a great European initiative. At that time, there had been a couple of national associations and groups promoting the advance and benefits of the still rather new technology "machine vision". However, these groups were mostly only subdivisions of larger industry associations and very much focused on their national ecosystem.
Considering that the machine vision business has been a very international business already in the early 2000s, it had become clear that a European initiative was needed. Considering further that most of the vision companies all over Europe were small(er) founder-managed companies, it was also clear that these companies would benefit greatly from an association where their needs are top and center. The time was ripe and the industry was ready to join forces cross-border, but we have to thank the machine vision group at VDMA (German Engineering Association) to pick up on this development and put it to action. In 2002, Manfred Hock (then General Secretary of the Machine Vision Group at VDMA) and Gabriele Jansen (then member of the Board of this group) were tasked to take initiative and gather European support for a truly European vision association. Leading players from all over Europe were then invited to send delegates into a European Vision Steering Committee. This was the start of a great pan-European collaboration. All aspects of competition were set aside and vision entrepreneurs and leaders from 12 European countries worked together for a year towards the ideation, the structure and the mission of the European Machine Vision Association. In parallel, this team planned the first ever European Vison Business Conference to take place in 2003 in Barcelona. At this conference, on May 24th 2003, the EMVA was founded by 43 European companies and the first Board of Directors was elected.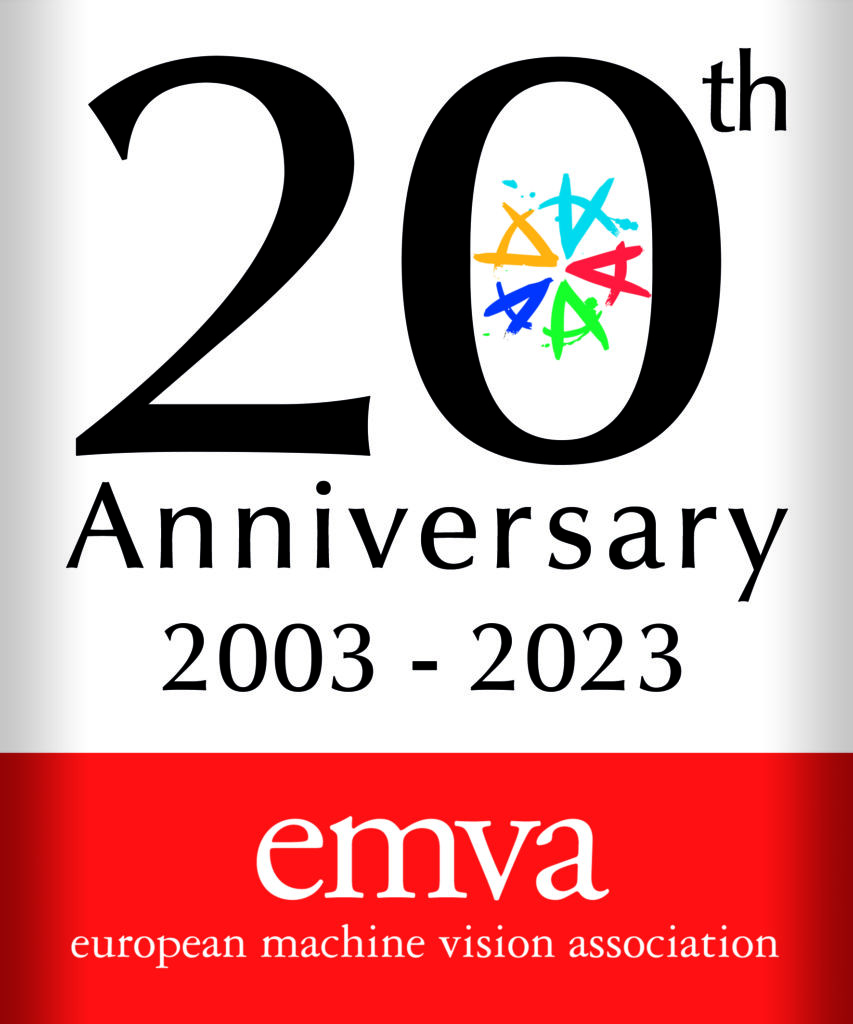 What were – in short – the highlights of the last 20 years?
Certainly one highlight from the beginning is the EMVA Business Conference which has taken place in 18 European different metropoles and two times in Barcelona where it all began; not to forget the two virtual conference editions during the pandemic. Standing out as an unforgettable for all those who attended is the 2010 Conference in Istanbul where during the arrivals of the participants the Eyjafjallajökull volcano in Island erupted. Flights were cancelled all over Europe and nobody was able to leave the city in a normal manner. This led to adventurous attempts to get back home, from chartered Lear Jets that were still allowed to fly to an 18 hour coach bus tour of some two dozen attendees from Istanbul through the Balkans to Munich.
Looking at the other EMVA activities over the years certainly standardization is one that became increasingly important. International cooperation which was initiated by the foundation of the G3 in 2009 paved the way to globally accepted standards. The EMVA hosted standards GenICam and EMVA1288 evolved to worldwide adopted vision standards, and new standard initiatives such as OOCI are addressing until then unsolved technical issues.
Having been founded under the VDMA umbrella, in 2012 during a memorable general assembly the EMVA finally became an independent, non-for-profit and member owned industry association. Part of the EMVA history is continuity. Already for more than 10 years Thomas Lübkemeier acts as General Manager and five presidents have served the EMVA since its foundation, beginning with Gabriele Jansen, followed by Dr. Mats Gökstorp, Toni Ventura-Traveset, Jochem Herrmann, and the currently acting President Dr. Chris Yates.
In 2013, the first EMVA Young Professional Award was awarded to recognize and support young talents in the industry. In 2016, the European Machine Vision Forum started as a unique annual meeting place for research and industry. And one year later, by recognizing a technological mega trend the EMVA set up the new conference format Embedded Vision Europe (eVe) 2017 in Stuttgart, which was repeated two years later. All this has been acknowledged by the vision tech players and as a result EMVA membership exceeded 150 for the first time last year.
To what extent has the vision market changed during this time and what impact has this on the association's work?
First and foremost machine vision has evolved from a niche market to a technology adopted in many different industry verticals. Personally, I am convinced that our standardization activities delivered a major contribution to that. With the growing adoption of vision tech the industry matured with all known side effects such as the concentration process with still ongoing M&A activities and a founder generation reaching retirement. We have also seen that external technological trends such as edge computing and minimization heavily influenced machine vision; something that continues with deep learning and AI. This has changed the landscape of vision tech players. Many companies and start-ups don't have a shop floor heritage anymore. As an association we want to be open for all players and where necessary enter new fields of cooperation such as with the Khronos Group to develop an Embedded Camera API.